Easy J: One night I was listening to The Local Current MPR station in Nicole's basement in Moorhead (not euphemism) and an aggressive hip-hop song with unique sound caught my attention. The song was "GRRRL Anthem" by GRRRL PRTY. The track has a swagger I had not heard from a female hip-hop act since Missy Elliott, and to be honest this felt a lot more genuine to me. I later learned that Lizzo was the front (wo)man of the group. Since then I have really appreciated her solo work which culminated in me purchasing Big GRRRL Small world without having really listened to it, something I NEVER do. (I also won a pair of tickets to Bluesfest from Mother's that day.) The stoner who was working seemed excited when I set it on the counter. He told me that their vinyl dealer in Minneapolis sold them a ton of copies of BGSW telling them it would sell really well. I had purchased the first one a week after they got them in. More on that Later.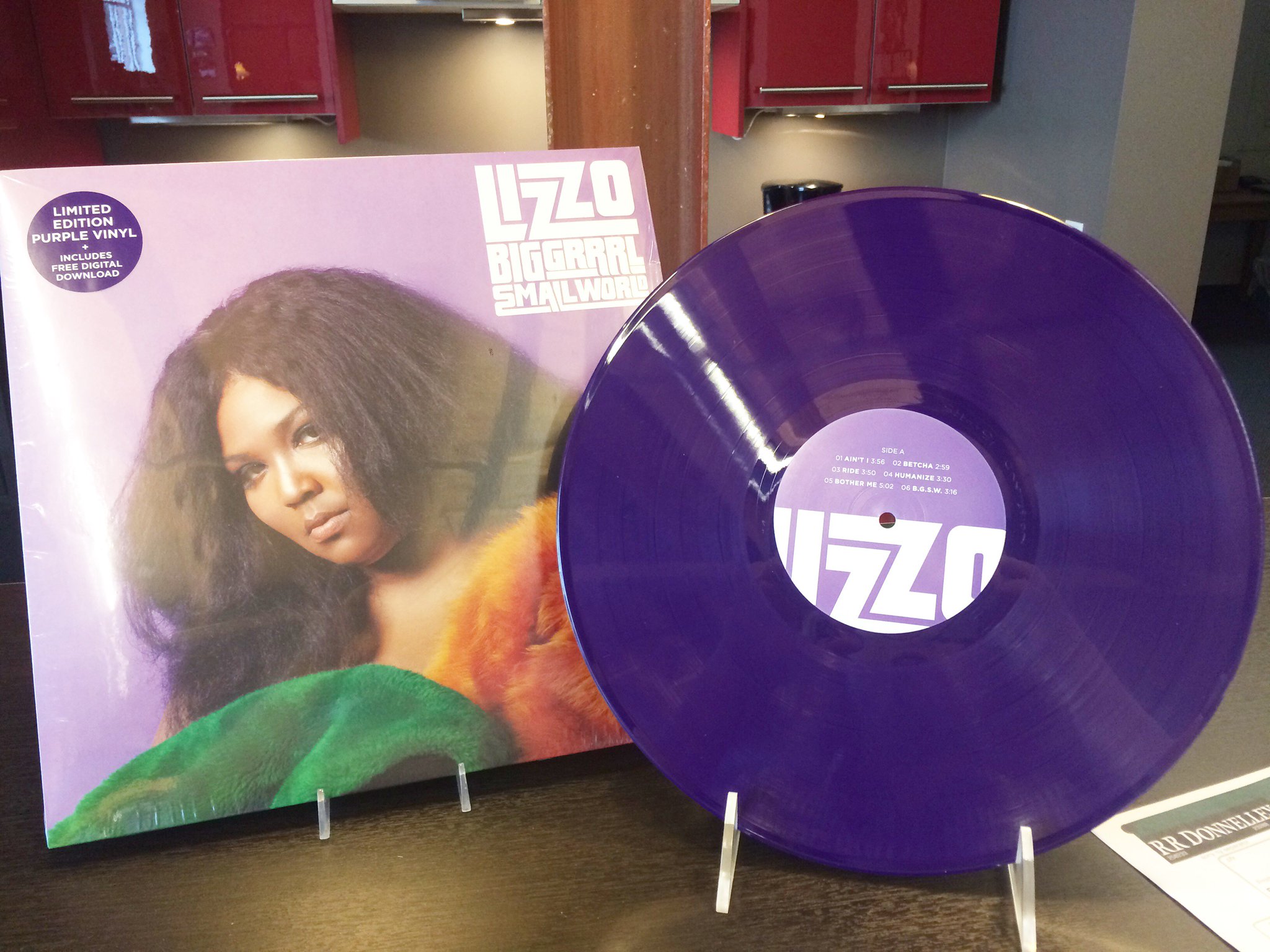 I love the album. It has quickly become one of my go to records to put on in almost any situation. It's best quality is how easy it is to listen to. It sounds great in the background when I have people over playing games, but BGSW is also a rewarding headphone listen. Lizzo's vocal work is varied and generally high quality, she can sing soulful hooks or burn you down with her quick clear lyrics. Speaking of Lyrics, I don't think the text is outstanding but each track comes across as honest to me.
The beats are good on some tracks great on others. To me "En Love and "My Skin" are the best tracks. My favorite moment on the album is in the hook of "En Love." The unsustainable build after a bunch of airy beautiful singing straight into a simple, unique, and particularly filthy section is so rewarding in a house music sort of way. It doesn't feel cheap like a base drop in hip-hop can. I feel like I earned it. She varies the way that moment it used making it feel earned each time it comes around. "My skin" feels like the mission statement of the album. As a skinny (if a bit flabby) white male it could be hard to appreciate message, and I can't help but feel like I'm not the target audience. It is such an empowering song. Lizzo just wants us to love ourselves.
She doesn't curse. I didn't even notice until she told me so. This is a wholesome album. I didn't think it was, but exluding a masterbation reference, it is really clean. That is admirable. I don't know if I would have that kind of self control if I was a rapper. I would just want to talk about titties on my lap and that sort of thing. Is it weird that I want kids to listen to this? Like, they should play this in middle school lunchrooms or something.
So in the record store I was surprised that I had bought the first copy. I knew Lizzo was kind of a big deal in the Twin Cites music scene so I thought a lot of people in Moorhead/Fargo would have wanted her new album. When BGSM was released Lizzo appeared on The Late Show with Stephen Colbert and performed "Ain't I." I though this would be her big break. It wasn't. While the album achieved relative success it did not make Lizzo a household name. None of my coworkers are familiar with Lizzo or her work. These are people who listen to some pretty hip shit. They ain't top 40 slaves, these folks are woke. What does this album need to be great? Is it the music's fault? Is it Lizzo's fault? Is it our fault? I don't know.
Anti-Label: I like the middle school reference J. Lizzo is someone I feel like people should latch onto. In a society that is clamoring for more strong female figures than ever before, Lizzo seems like an ideal fit. Sexy voice, solid lyrical prowess, good repertoire, etc. Plus for me, she has the "Prince" effect. Anyone from Minnesota to me is instantly special because they are "one of us". I picked this up from Dan Cole, The Common Man, a few years ago and it is so true. We Minnesotans love our fellow kin.
Anyways, Lizzo bangs on this album. She has social awareness and relevance, good beats, and some absolute bangers. In the kindest way possible, I wonder if she gets passed over for vain reasons? Cause she is one of the most talented female rappers in the scene today.
One final comment on the profanity note you made, that is crazy. I never even noticed. I don't even react to profanity in Hip Hop anymore and I guess I just assumed there was. If I was a rapper, I'd be dropping more profanity than a drunken Chipz n' Queso song.
Connor: I really love this album, and I've listened to it over a dozen times since it came out. It really hits me in all the right spots. But more than anything, I love how good the album is. Not in the "wow, this is a well-made album" way, though it is. I mean good in the dungeons and dragons cosmic alignment sort of way.
I've told Alex before that if I was asked by a student, especially a girl, what music I would recommend to them, it would be Big GRRRL Small World. Lizzo isn't singing about partying and drugs; no hedonism really at all. She isn't a raging narcissist, and she isn't singing about how she's desperate for sex (though she's open about sexuality). Instead, she's singing about what race means to her, she's rapping about loving her own large, brown body. She's also way more erudite than most rappers I know of. "Ain't I" not only pitches reparations, but is a direct reference to Sojourner Truth's famous speech "Ain't I a Woman".
But I think, to go back to Jason's question about why Lizzo hasn't blown up yet, I recommend Lizzo for the same reason she probably hasn't gotten big yet. A few months back I was listening to the song "Batches and Cookies" from the album before Big GRRRL… and I was trying to use a website to read the lyrics to help me understand an unclear line. On the first website I tried using, a usually high quality website, the lyrics were listed:
"Look at me, I listen to Lizzo. I think I'm better than everyone else. Hey, why don't you go fuck yourself" (I paraphrased).
And I think that's really indicative of what people think about Lizzo. I think there's a real barrier to entry, between the lyrical content and the sound of some of her songs especially the slower and more reflective ones, that can be hard to overcome. Is that a problem with the listener, or with Lizzo?
In any case, I can groove hard to Big GRRRL Small World, in particular "Ride" which has a super funky bass line and a cool, "I just need to chill" message.